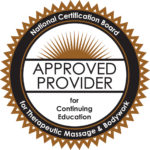 Kathleen is a Continuing Education (CE) Approved Provider for the National Certification Board for Therapeutic Massage & Bodywork (NCBTMB),  CE Provider Number 1336.
All Reiki classes are taught in the Usui/Holy Fire III system. This is the new evolution of Reiki, and is a deeply healing blend of traditional Usui Reiki and Holy Fire Reiki, given to us by a higher consciousness to accelerate our healing and spiritual growth.
How to Receive CEs:
•  Upon registering for class, please inform Kathleen that you are a licensed massage therapist, so that all required paperwork will be completed.
• You must attend the entire class,  participate in group practice sessions, and complete follow-up assignments as requested.
For questions, please email Kathleen ([email protected]) or call 570-285-4757.