"Reiki Rocks!" is a  Reiki I class for children ages 7-11.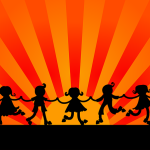 We are excited to provide this opportunity for children to learn Reiki as a life-enhancing skill. The course is designed to be fun and interactive, and includes the Reiki 1 placement/attunement, which provides the ability to channel Reiki energy for their benefit as well as others.
In this workshop the children will learn about subtle energy and simple methods of using Reiki. The course is fun and interesting for children who have an awareness of their energetic selves and are interested in learning how Reiki can help them realize their inherent potential.
Children have a natural ability for working with healing energy and can often see it, as well as feel it. They seem to effortlessly accept its presence because they are comfortable with the unseen flow of life. Learning Reiki simply becomes a beautifully natural part of life.
Children who learn Reiki are better able to navigate our often hectic world. They report feeling calmer, more centered, less stressed, and more connected to themselves and to others.
NOTE: As the child starts along the Reiki path, it is strongly recommended that a Reiki-trained parent, family member, or friend be available to provide support and guidance.
The class includes:
Sensing the Energy Field
Importance of Self-care
The Rainbow in Me – The 7 Chakras
Reiki 1 Attunement
Kid-friendly Guided  Meditations
Giving Reiki to People, Animals, and Plants
Giving Yourself Reiki
Creative Expression through Play and Art
This class is limited to 5 students, so that each child receives personal attention and an optimal learning experience.