UniverSoul Heart Radio! Rockin' Reiki to Empower Your 2018 and Beyond!
January 9, 2018 @ 6:00 pm

-

7:00 pm
UniverSoul Heart Radio with Kathleen Johnson – Sensible Spirituality for Everyday Living
LISTEN on January 9TH – 3PM PST / 6PM EST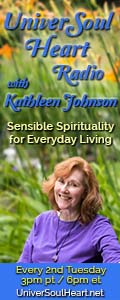 Rockin' Reiki™ to Empower Your 2018 and Beyond!
The Rockin' Reiki™ experience works with the energy of 2018 to make this your best year energetically! This new year's energy is powerful and brings a promise of balance and harmony after the tumult of 2017. January is particularly dynamic on many levels. Astrologically, it brings two full "Supermoons", so called because they appear to be closer to the Earth, enhancing the already potent lunar energies. The full Supermoon of January 1 ushers in the new year with all its promise, and the next, on January 31, arrives with a lunar eclipse!
The heavens are indeed aligned!
Numerologically, 2018 is a Universal 11/2 Year – an intoxicating energetic combination coming on the heels of turbulent 2017. This is a year to get clear, do your work, and learn your lessons, as humanity and the planet teeter on the brink of releasing the old and embracing the new!
Rockin' Reiki™ is an energetic empowerment experience, with all the tools you need to successfully navigate the emerging consciousness, and step up as a global citizen and spiritual being. Learn how to empower yourself, and make this your year of unlimited possibilities!
Find your path to wholeness and integrate spirituality into your everyday life with UniverSoul Heart Radio! Tune in each month as Kathleen Johnson explores the concept of sensible spirituality-keeping you grounded, connected, and centered on the path to wholeness!