Season 2!
Come along with Reiki Masters, Kathleen Johnson and Andrea Kennedy, as they lead you on an exploration through the Reiki gateway and beyond, helping you to discover your unique path to wholeness and authenticity. Listen and learn as they discuss topics such as Crystal Healing, Past Lives and Reincarnation, Spiritual Awakening, Spirit Guides, Meditation, Empaths, Life Purpose, and, of course, Reiki!
If you'd like to treat us to a coffee to support our all-volunteer effort, click here!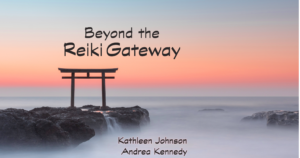 ~ SENSIBLE SPIRITUALITY FOR EVERYDAY LIVING~

ON REIKI TOPICS AND TECHNIQUES!

LISTEN AS SHE DISCUSSES REIKI, ENERGY HEALING, AND PAST LIVES!